Terror Against Humanity
September 11, 2001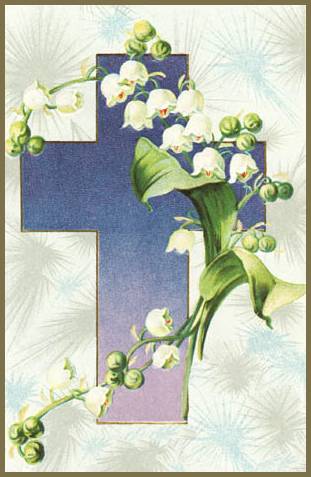 My prayers are for all of humanity.
No one, not a country, not our allies
nor our adversaries is immune to
terrorists.


My little angel here is
a symbol to all those who
lost their loved ones on
September 11, 2001.

She is a ray of hope
for peace to prevail.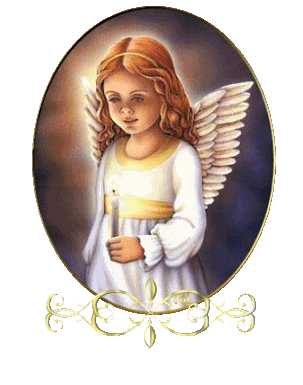 Lord,
make me an instrument of
your peace.
Where there is hatred,
let me sow love;
where there is injury, pardon;
where there is doubt, faith;
where there is despair, hope;
where there is darkness, light;
and where there is sadness, joy.
St. Francis of Assisi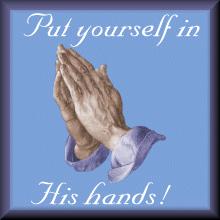 Dear Heavenly Father,
We are moved by the alarming news
and crisis that our country is facing.
This, the greatest nation, founded in
the beliefs "In God We Trust" &
the "Land of the Free".

Please have mercy on those suffering,
hurting and in fear, and give wisdom
& strength to those who are assisting.
May the forces of evil be broken by your
power and may we humble before thee, our tower
of strength and refuge.

Give wisdom to all,
-- our President & our leaders --
and bring your comforting peace through the
power of your Holy Spirit.

Help us here to reach those that have
been affected by this tragedy.

In the name of our Lord and Savior.

AMEN
Author unknown
Submitted by:
Bertha Sutliff 2001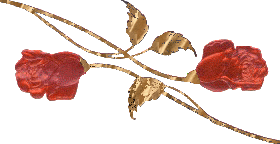 Our Heavenly Father,
bless us as we try to comprehend the
events of September 11, 2001.
From out of nowhere came terror that
struck us severely.

Father, we know that you did not cause
this act against humanity.
Help us to stay calm and rational to
seek out the perpetrators that caused
this horrendous act against us.

Americans were the target however, all
of humanity has suffered.
Many, many individuals became heroes
the EMT's, Firemen, Police Officers,
and those individuals that were made to
participate against their will.

Protect us and our loved ones.
Give strength to those individuals and
families that have to endure this tragedy.
In Jesus name, we pray.
Amen
(c)DeeDee 2001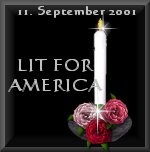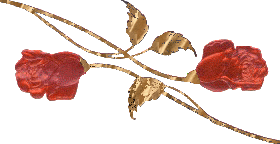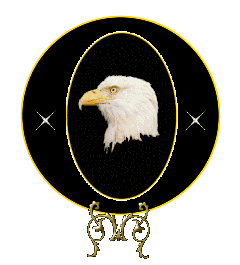 September 11, 2001
An Open Letter to Terrorists

I don't know your name, or names
- we may never know who you are -
so I can't address you personally.
Today, you killed several thousands of
our friends...perhaps not people who we
knew personally, but people like us.

People who worked hard to make a living,
who loved someone, who were loved by
someone, who worried about making a better life
for their children and grandchildren, who
believed in God and the American Dream,
who criticized this country for its
insufficiencies and cared enough to
try and change things and ensure a better
future, not just for us, but for the world.

People who leave behind scores of loved
ones, friends, pets, neighbors, coworkers,
and members of their faiths.
Perhaps even people who derived from your
own country and who sought refuge here.

Your act was a slaughter of the innocents.
You are like an insidious cancer that strikes
without warning, ravages bodies, tears families
apart, and in the end can never destroy the
soul.

You are the ultimate coward.

You may topple our buildings, collapse our
communication systems, disrupt our government,
crash our markets, and leave behind the carnage
of bodies, but you will never destroy the soul
of America.

We made this country from the bits and pieces
of the rest of the world; we took the best,
the worst of every culture and nationality,
race and creed, and made an alloy that may be
dented, but not even a trial by fire can melt.

I don't know what God you believe in, or what
hateful rhetoric you espouse, or what your
misguided political beliefs might be that allows
you to do what you did today without a fear of
eternal damnation. I only know that you may
win a battle or two, but you will never win this
war!

We have the entire history of the world on our side,
and no dictator, despot, or madman has survived
as long as America has thrived and prospered.
If you accomplished anything at all today, it
was to give America a wake-up call, and we will
now rise up stronger than before.

You are defeated before you've even begun, there
in your private hell and later in your eternal one.
Someday your people may even need our help,
and because we are America, we would respond.

May God bless the friends we lost, their families,
friends, neighbors and coworkers. We will help them
rebuild from the ashes.

May God continue to bless America, help her to
protect us all, and may she continue to shine as
a beacon of democracy and hope to the rest of the
world.
(c) Jim Willis 2001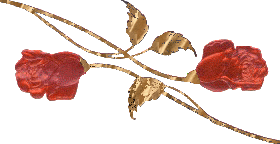 A list of those who are known
to have died from this atrocity.
Each and everyone is a hero.
List of our Heroes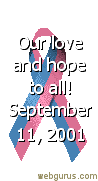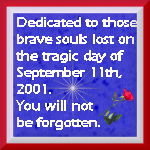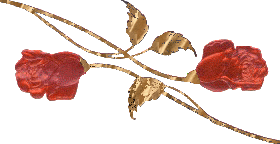 This is the Ribbon of Unity.
Please feel free to pass it along.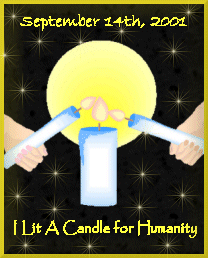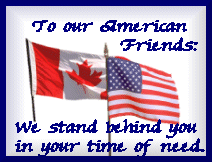 In Memory of September 11, 2001
and all that have perished.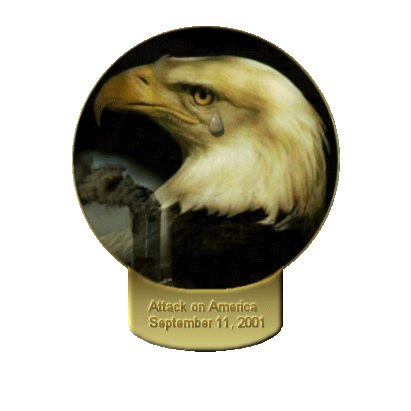 The ORIGINAL image is copyrighted
and was created by:
D.E. WALDRON AND GUY PARNEIX
I redesigned it into this globe
and added the animated tear.
I do not claim copyright of the image.
Please click "Here" to see the copyrighted original.
Please light a candle in memory
of all those we have lost,
and show your support for a world
without terrorism:
Light a Candle click here.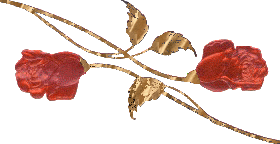 The following sites also have dedications
to the tragedy.
A Poem
Bertha
Cary
Forever, Me Lady
Ishaah
Janice
Jo
Katia
Kender
Lady Bobbii
Linda
Misty
Stormie

ToL Design